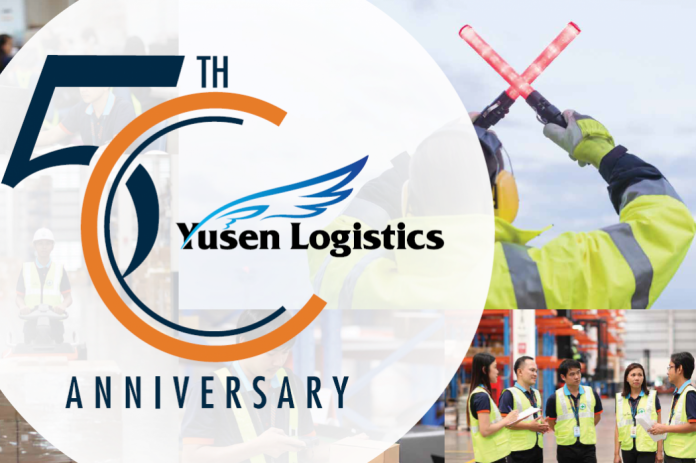 Five decades ago, the logistics industry in Thailand was a relatively small part of the economy compared to its large importance today. Seeing the potential all those years ago, Yusen Logistics (Thailand) began forming the foundations of their business early and have since become a leader in the logistics field with efficient customs clearance services along with modern solutions that look to answer any demand.
For their 50th anniversary, Yusen Logistics (Thailand) gave us an opportunity to speak with Ms. Patsa Chotpawinon, Executive Officer Air & Ocean Customs Clearance and Mr. Noppadol Santiworarak, Executive Officer Accounting and Finance Group, Corporate Planning Group and IT Group of (Thailand) about their overall business and their growing success.
The Start of Something Great
Back In 1969, Yusen Logistics (Thailand) started as a custom clearance service provider for imports and exports by sea freight, air freight and land transportation along with domestic forwarding services under the name 'NYK Transport Service (Thailand) Co., Ltd.' with less than 100 staff.
Later on, the Company expanded their FCL/LCL sea freight services and changed their name to 'NYK Logistics (Thailand) Co., Ltd' in 2003, for the purpose of reimaging themselves as a logistics service provider. Then in 2011, the Company merged with Yusen Air & Sea Service and became an all-around logistics service provider to be known as 'Yusen Logistics (Thailand) Co., Ltd.'
Yusen Logistics (Thailand) has been met with plenty of success from being a top customs clearance service provider and becoming the first company to receive World Customs Organization's AEO standard certification from Thai Customs. But this alone cannot support the demands of ever-evolving industries. Therefore, it is imperative for the Company to reshape their business to become and all-encompassing logistics service provider.
In the present day, Yusen Logistics (Thailand) has many types of freight and logistics services, such as Milk Run deliveries. The Company has also established more distribution centers, as well as designed and invested 600 million baht for their new warehouse in 2018 which just opened for service in early 2019, in preparation of future requirements from customers.
"Customers normally wish for only a depot. Therefore, we are offering to add more value to their goods while storing in the warehouse, through services such as goods packaging, goods examining and goods packing by on-site staffs. We are also sharing our warehouse space information and inventory list to our customers as well," said Mr. Santiworarak.
"We are utilizing Warehouse Management Software (WMS) which we developed through a Software House with our own staff developing an import-export declaration management system. We also have an information sharing gateway with Thai Customs through the Customs Gateway directly. Furthermore, we have EDI-IT resources, developing a system for our customs officer services," Ms. Chotpawinon added.
To further reinforce their foundation, Yusen Logistics (Thailand) has a fleet of 700 trucks ready for service including 4-wheel, 6-wheel, and 10-wheel trucks and tractors. Along with a fleet of 1,000 trucks from an alliance logistics business.
Expanding the Business
Another distinctive aspect of Yusen Logistics (Thailand) as an all-around logistics service provider is, they're always ready to provide quality service to their customers in any economic condition. "We do not wish for a delayed transportation or damage upon our customers' goods. Sometimes the solution for such problem is to increase the cost, which we are willing to do to earn our customers' trust," said Ms. Chotpawinon.
The gathered trust and reputation developed over the past 50 years was built from the Company's strong and loyal personnel who strengthened Yusen Logistics (Thailand) through many obstacles such as the Tom Yum Kung crisis in 1997. And even though the origin of the Company is Japanese, the Company is running a business in Thailand. This led the Company's executives to realize the potential of their Thai staff and gave them an opportunity to rise up and manage the Company as well as developing their skills along the way.
"We are constantly switching our personnel's roles and are open for an opportunity for them to learn from top management for self-improvement. For example, we are giving air freight staff an opportunity to learn about sea freight or contract logistics services," said Mr. Santiworarak.
Today, internal management of Yusen Logistics (Thailand) can be separated into two teams; the Business Team and the Corporate Team. Each team support each other to achieve a common goal.
"Our Business Team's tasks are to set the goal and the budget for each year. We have specific specialist for each team of business types, such as customs clearance, warehousing, air freight, sea freight, border and land transportation. All to serve our customers' demands with the most efficiency," Ms. Chotpawinon described.
As for the Corporate Team who are working in support of the Business team, Mr. Santiworarak explained that, "We are strengthening the foundation for each type of business, by making a financial report for the executives and organizing information by our dashboard to make the planning and analyzing process easier."
"Another important task of the Corporate Team is overseeing the rules, regulations, and compliances, including tax regulations and business law. For instance, in an event of warehousing dangerous and chemical goods, we would have an involvement right from the start. We would inspect for a proper environment for each types of cargo by examining the build of the warehouse, checking for a fireproof wall and the security staff, checking the permit documents of such warehouse. All of the above is very crucial," continued Mr. Santiworarak.
Along with the Business Team and the Corporate Team who are helping Yusen Logistics (Thailand) to develop their business without leaving anyone behind, the Company also draws its strength from its unparalleled IT support through Networking services, IT Solutions and program coding services.
An Eye Towards the Future
The Logistics industry is always evolving and challenging. One of such challenges for Yusen Logistics (Thailand) is the growing numbers of logistics service provider. "Our way to handle this problem is to differentiate our services to other service providers. Now, we are operating under the policy of 'Transform 2025', which is a Customer Centric policy, in aiming for customer trust to offer them proper solutions which has always been our top priority," said Mr. Santiworarak.
The 'Transform 2025' policy was written for the global Yusen Logistics group to operate under the same standards and to provide proper solutions for each customer in different regions. "The keys of Transform 2025 are Connected, Committed and Creative. The meaning of Connected is to connect and to further understand our customers' businesses. The meaning of Committed is to be reliable to the customers. And the meaning of Creative is to create solutions to customers, which we are able to provide solutions for 3PL and 4PL logistics. At the same time, as we take care of the customers, we are learning new things along the process as well," Mr. Santiworarak revealed.
The 50th anniversary of Yusen Logistics (Thailand) resembles the Company's success as an experienced logistics service provider and reflects their focus in offering the top-quality services along with their will to evolve and step up in order to have a better understanding in the regional businesses. "When customers see the Yusen Logistics logo, they must feel commitment in our services and solutions from our hearts," said Mr. Santiworarak.
อัพเดตข่าวสารและบทความที่น่าสนใจในอุตสาหกรรมโลจิสติกส์ก่อนใคร ผ่าน Line Official Account @Airfreight Logistics เพียงเพิ่มเราเป็นเพื่อน @Airfreight Logistics หรือคลิกที่นี่