We are collectively in the midst of a global health emergency the likes of which we have not seen for nearly a century. To put it lightly, the world is a much different place than it was just a few short months prior. While countries are once again tentatively beginning to open their borders to trade, behind the scenes there are those who have been striving to foster an uninterrupted supply chain.
The COVID-19 pandemic has thrust the once veiled supply chain into the spot light, as most people are feeling the impact first-hand now more than ever on how important the supply chain is to modern day life.
As such, the companies and people that make the supply chain work deserve recognition, as they attempt to bring back normalcy to the world.
Turkish Cargo has emerged as a leader in these trying times, pushing for smarter use of their freighter fleet and developing innovative ways to help ship cargo to destinations around the globe. Their developments have, in fact, allowed them to achieve the highest growth rate amongst the top air cargo carriers.
For a deeper look into how they have achieved this success, one only need take a look back at their smart investments that has allowed them to put a strong focus on cargo and connecting their services to flourish even during the current economic outlook.
Fighting Fire with Freighters
Turkish Cargo is attempting to compensate for any loss of capacity resulting from the contingencies brought about by the effects of the COVID-19 coronavirus by increasing the frequencies of its freighter flights.
Despite the fact that cargo transportation capacity on board passenger aircraft is significantly narrowed due to the travel restrictions across the globe and a decrease in customer demand, Turkish Cargo is pushing to utilize more of their freighter fleet, which is the 6th largest in terms of cargo capacity in the world.
The carrier is making a plans to utilize the full capacity of the freighters in their fleet for the purpose of meeting all requirements of the exports in Turkey as well as foreign trade that is of critical importance.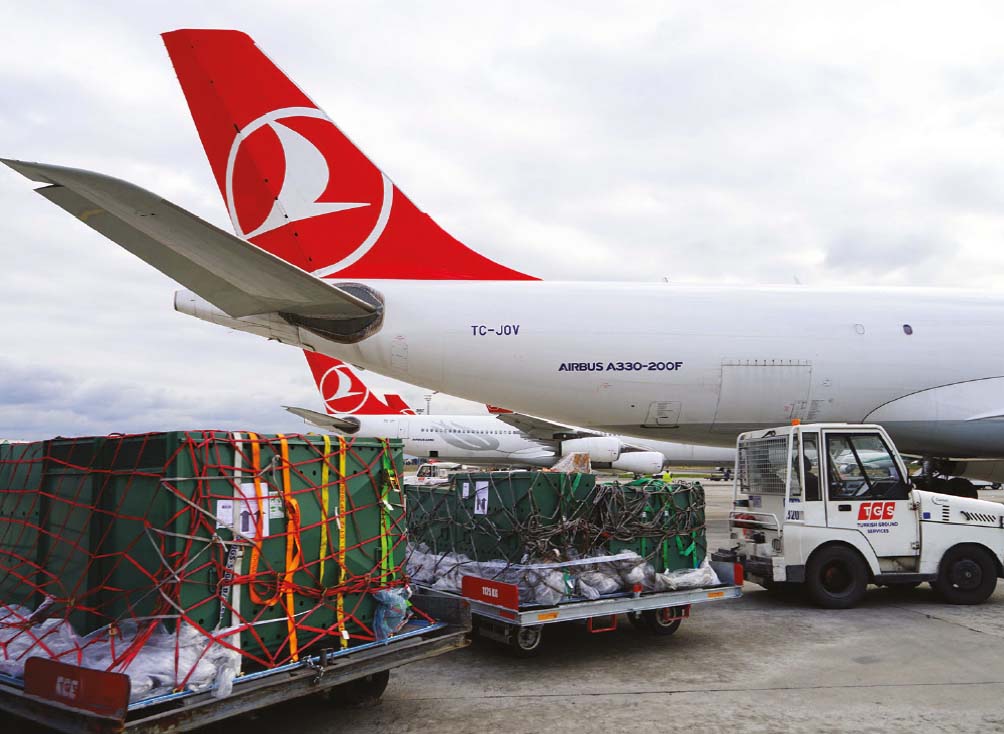 As such, Turkish Cargo has added 14,500 tonnes of extra capacity to and from Turkey with an additional 167 cargo flights. They are providing air cargo services with 25 high-capacity freighters to 90 direct cargo destinations, whilst also reaching 38 destinations, including London, Moscow, Cairo, Shanghai, Bangkok, Doha, Dubai and Casablanca with 19 wide-body passenger aircraft from the fleet of Turkish Airlines.
By adjusting to the rapidly changing situation and maintaining a commitment to provide additional capacity, the global cargo carrier aims to contribute to the stabilization of the supply chain while doing its duty during these challenging times by standing with its nation as its flag carrier.
By being aware of the fact that the continuation of stable air cargo flow will be life-saving during this period, Turkish Cargo is diligently supporting all of the efforts made by the International Air Transport Association (IATA) for fighting against the coronavirus, globally.
As such, Turkish Cargo is aiding in keeping the global supply chain intact by carrying food, relief supplies, masks, medical equipment and medicines. They continue to carry this critical cargo from different continents first to Turkey and afterwards from Turkey to Chicago, Taipei, Atlanta, Sao Paulo, Seoul, New York and Kiev, and to destinations all over the world. Turkish Cargo carried 4,000 tons of medicines and 500 tons of medical equipment on more than 900 flights during April alone.
Rising Above
Turkish Cargo is proving they are the fastest growing air cargo brand in the world with their recent achievement of having the highest growth rate among the best 25 air cargo carriers with 16.6 percent growth rate, according to the International Air Transport Association's (IATA) Freight Tonne Kilometers (FTK) February 2020 results.
The air cargo carrier was previously ranked 8th in 2019, rising to 5th place and increasing their global FTK market share to 4.4 percent, while the global air cargo industry shrank by 2.6 percent, according to FTK data, which is the measure of a flight's freight carrying capacity calculated by multiplying the number of tonnes of freight on an aircraft by the distance travelled in kilometers.
On the successful growth of the Turkish Cargo, Turkish Airlines Chairman of the Board and the Executive Committee, M. İlker Aycı said:
"Just like our nation, we are a company that cannot abide losing or giving up. During these difficult days where the only thing we can do is to carry cargo, we are doing our duty to the best of our abilities while doing valuable work for humanitarian and commercial ends. The success of Turkish Cargo shows our commitment to carry our country to a central position in the world for the air cargo sector. Our geopolitical location and available means will help our country to become a more significant player in the air cargo sector following the Covid-19 pandemic. Therefore, we will be marching with surer footing towards our goal of making Turkish Cargo one of the top five air cargo brands in the world by 2023."
อัพเดตข่าวสารและบทความที่น่าสนใจในอุตสาหกรรมโลจิสติกส์ก่อนใคร ผ่าน Line Official Account @Airfreight Logistics เพียงเพิ่มเราเป็นเพื่อน @Airfreight Logistics หรือคลิกที่นี่