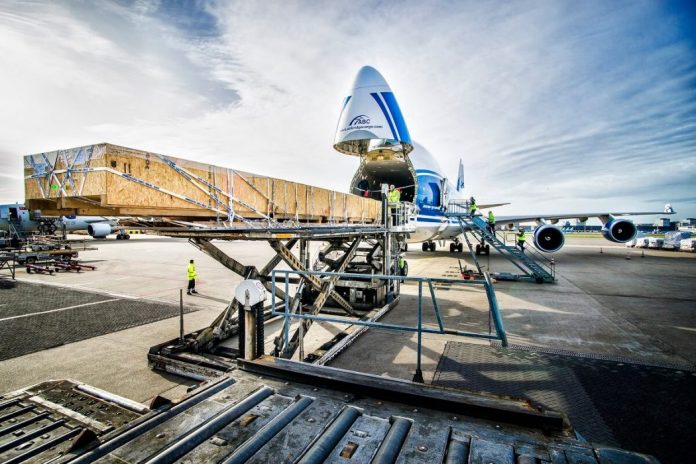 The role that dedicated freighters play in the air cargo market is one that fulfills a vital niche. While the lower belly-hold space of passenger airplanes serves a purpose, freighters enable palletized lower hold space which is extremely important for forwarders who are a principal driver of air cargo.
Beyond just enabling palletized shipments, freighters are flexible and allow oversized cargo to be transported. Within the market there exist specialized carriers that put a particular focus on freighters. They often use a combination of freighters, from the more streamlined 747F to freighters like the AN-124-100 that is unique in its cargo compartment size, flight range and uplift capability without using special loading equipment.
While it is a niche market, most players in the industry will continue to rely on and augment their cargo operations by flying freighters to leverage all the advantages that these airplanes bring to the table. In doing so, it's important to not only understand the needs of customers and forwarders but also what the carriers need to do their job successfully.
With the enormous size of the cargo, tight deadlines, and remote destinations, shipping outsized cargo can be very challenging. That's why carriers need as complete of the picture as possible to ensure detailed plans can be implemented that are efficient, effective, and as safe as possible.
For more information, tips, and things to consider from a carrier perspective, we've spoken with well-known freighter operator Volga-Dnepr to better understand their needs when transporting oversized cargo.
Size, Weight and Dimensions
Knowing accurate cargo size, dimension and weight is a must for transportation of oversized and super heavy cargo, since the carriers need to plan how to load and unload the cargo, as well as to balance the weight of the cargo.
First of all, airline load planning engineers need clear, accurate, and understandable packing list in order to proceed with the assessment. This list must include cargo position name, number of pieces for every individual cargo position, overall dimensions (Length, Width, Height), and individual weight. Due to international scale of the business, it is highly important to indicate correct measurement units dimensions and weights (inches or centimeters, kilograms or pounds, metric or US tonnes). The ideal variant to submit all available info is to summarize it in XL format, as it will allow engineers to dramatically save time and provide faster response. Load planning is an interactive process, and load planning engineers may request additional information regarding lifting and lashing points available on some pieces of the cargo.
For outsized and super heavy cargo sometimes technical drawings are needed, including the drawing of the cargo base. The ideal variant would be having the 3D computer model of cargo available to load planning engineers, as it gives sufficient info about cargo, enables them to make stress analysis and design necessary transport devices. Volga-Dnepr professional designers use different software products to speed up the design process, however, STP files are more commonly used.
Lashing and lifting
Keeping cargo stable and not able to move during the flight is essential for the safety of the cargo, airplane and the crew, therefore the load planning engineers and loadmasters need to carefully plan lashing of the cargo. One of the most common methods of securing cargo is processed with the utilization of aircraft lashing chains. The number of chains applied to the cargo depends on cargo weight. A sufficient number of lashing points should come with the cargo or its package. Volga-Dnepr's load planning engineers normally advise on specific requirements for particular pieces of cargo. It is very important to follow these recommendations when preparing cargo for a flight. Normally cargo with weight less than 20T is loaded into An-124-100 aircraft using onboard crane system. It means that piece of cargo will be lifted directly from a trailer with four hooks of the gantry crane. Lifting slings could be connected to the lifting points on the cargo or located underneath the cargo base as a basket. Cargo and its package must be suitable for loading with onboard crane system.
Packaging
Transportation of oversized and super heavy cargo is a complex and lengthy process, and every shipper wants to keep its cargo's integrity no matter what happens under different weather conditions, loading/unloading process, and switch to different transport modes.
Cargo of relatively small sizes and weight is suitable to be loaded using onboard crane systems and is normally crated or packed in wooden boxes. It is important to make sure that packaging meets the requirements of ICAO and IATA for air transport packages. Cargo itself inside boxes must be fixed excluding the possibility of movement. This connection must be done in respect of maximum aircraft G factors. They have the following values for An-124-100 aircraft: 2.3 –Forward, 1.5-Aft, 1.5 Lateral, 2.0-Upwards and 2.5 –Downwards. For some pieces of cargo airlines may ask you to open windows in package walls to get access directly to the lashing points on the cargo itself.
It is very important to remember that packaging must not be airtight. Air pressure in the cargo cabin changes during climbing and descending. The package will be damaged if air pressure inside and outside of the package is not equalized. For instance, so-called vacuum plastic package will expand during climbing and shrink during descending. Package of outsized and super heavy cargo that is loaded with special loading equipment is highly undesirable. For this cargo lashing chains must be connected directly to the lashing points on the cargo. For example, Volga-Dnepr does not accept cargo lashing on the package due to safety reasons.
Loading/ Equipment
Different types of cargo require different loading and unloading methods. Some cargo is suitable to be loaded into An-124-100 aircraft with onboard crane system. Self-propelled vehicles could be driven in and out through front or rear cargo doors. The outsized and super heavy cargo is loaded onto an An-124-100 aircraft only with the application of special loading equipment. As mentioned before, technical drawings or computer 3D model are essential to decide which type of loading equipment must be applied to particular cargo. Volga-Dnepr specialists design and manufacture special frames to enable loading and transportation of the cargo in the most effective manner, using ramp, rail system, and a mobile crane, if and when appropriate.
Dangerous Cargo
Some materials and cargo such as explosives, compressed gases, flammable liquids etc. are classified as dangerous goods. This type of cargo requires special preparation and packaging in accordance with ICAO and IATA regulations. Some types of dangerous goods are exempted and cannot be transported by air under any circumstances. The earlier you inform the airline about this type of cargo in your packing list the more likely it is that transportation will be organized without any problems and delays, and, most importantly, in compliance with international industry-related standards.
Flight Environment
Some cargo may have environmental sensitives, such as temperature and air pressure. Inform your airline as soon as possible if you have any limitations or concerns regarding the environment in the cargo cabin. Volga-Dnepr says specialists are always ready to discuss this issue to find a suitable solution.
Site Visits
Sometimes general information is not enough and in order to guarantee safe, seamless and effective transportation Volga-Dnepr team organizes site visits. These visits are essential to conducting engineering and technical assessments of cargoes for transportation to get a better idea and the whole picture of the equipment scale.
Airport – Permits, Infrastructure, and Manpower
An airport's infrastructure is crucial for outsized cargo operations. There should be proper loading/unloading areas, runways appropriate for the aircraft's planned landing weight, taxiways, and parking slots available for loading/unloading processes and places for crews to rest.
Once the shippers provide the information of the recipient, carriers start working on obtaining permission for a charter flight, which usually depends on (a) type of cargo on board of the aircraft, (b) estimated time prior to departure. Every country has its regulations and procedures pertinent to the issuance of flight permits, thus a lot depends on the regulated time for such processing by a country's civil aviation authorities. Even though urgent charter requests usually are a headache for many carriers, Volga-Dnepr Group team of professionals with 28 years of experience in operating charter flights knows all the procedures in different countries and is able to obtain permission for operating the needed charter flights.
Operating charter flights with all the permissions is one thing – but handling the cargo loading/unloading process is another issue. Sometimes, airport manpower is not enough, thus Volga-Dnepr needs to guarantee additional maintenance crews and loading specialists are on-site to provide high-quality logistics solutions. Under charter programmes, Volga-Dnepr often feels the necessity to send extra flight crews to ensure the timeliness of the flight operations.
Post-flight processing
Some circumstances may require additional assistance with customs clearance and warehousing – this is where Volga-Dnepr's expertise and experience gives customers the full range of benefits with its long-term relations with this business sector and their intimate knowledge of the processes involved.
Volga-Dnepr has a proven track record of organizing multi-modal transportation, using including road, rail, and sea logistics services to get cargo to its final destination or production facility.
อัพเดตข่าวสารและบทความที่น่าสนใจในอุตสาหกรรมโลจิสติกส์ก่อนใคร ผ่าน Line Official Account @Airfreight Logistics เพียงเพิ่มเราเป็นเพื่อน @Airfreight Logistics หรือคลิกที่นี่