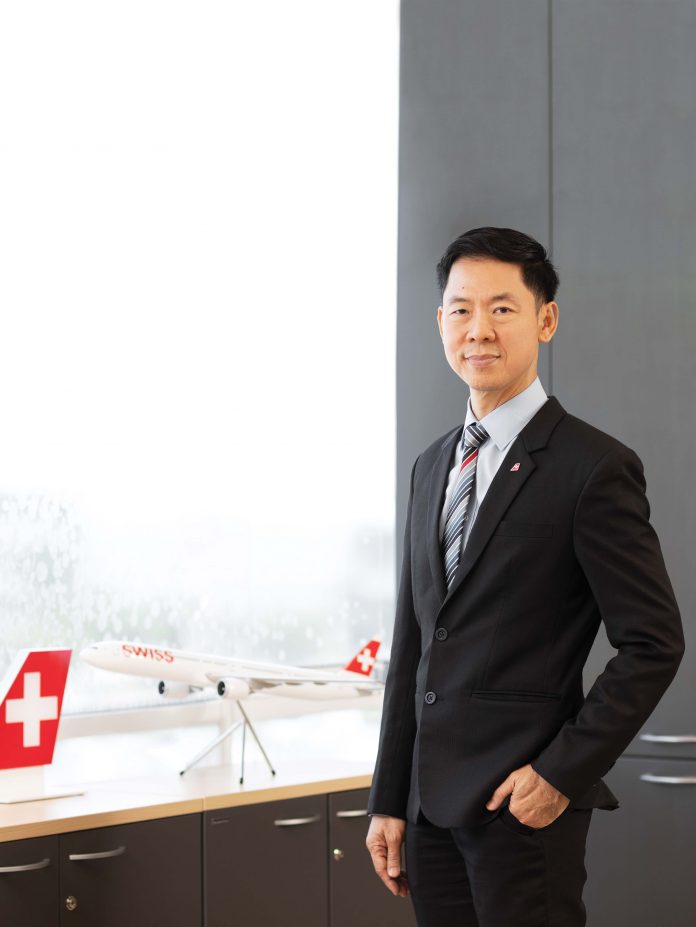 The air freight industry today is filled with challenges and fluctuations. To attract more business and as a response to the ever-changing industry, organizations must continuously improve their services.
Swiss WorldCargo, air freight division of Swiss International Air Lines (SWISS), have become one of the leaders in the air freight forwarding industry. As they boldly march towards a successful future, by reinforcing their business philosophy and strategies, they focus primarily on forging their most valuable asset: their people.
To learn more about Swiss WorldCargo's people-focused strategy, we spoke with Mr. Chairit Manosaksaree, Manager of Cargo for Swiss WorldCargo Thailand, Cambodia, and Vietnam. He revealed information about the Company's open-minded attitude and unique program designed to augment their staff's potential.
3P Strategy
"When you hear the word 'Swiss,' high quality and high-security products usually come to mind. Whether it be high-value accessories, watches, or pharmaceutical products. Therefore, once you hear 'Swiss WorldCargo,' high-quality logistics services would be the first thing that comes to your mind. Our quality stems from efficient operations, which rely heavily on our staff. Should we operate with low-quality staff, we would be offering poor quality services," explained Mr. Manosaksaree.
Swiss WordCargo are building up their quality right from the recruitment process. "We have very meticulous recruiting processes. Once candidates pass the interview and become recruited as staff, they must go through an Aptitude Test. The test assures the efficiency and suitability of job positions for each member of staff," he continued.
Swiss WorldCargo are seeking their sustainability through three main factors; profit, planet, and personnel. Arising from such elements is the 3P strategy. 3P aims to improve their business while closely paying attention to being environmentally friendly by reducing emissions and reducing paper usage, conducting business for the highest profit, and fostering the development of their people, who are the Company's main drive force.
Five staff members of Mr. Manosaksaree's team are bringing out each other's talents under Swiss WorldCargo's one of a kind strategy. Senior staff members are supervising, nurturing, and providing essential knowledge to new staff while the Company are offering additional insight such as Dangerous Goods information, necessary selling skills, and underlying operating systems information.
Foster the People
Swiss WorldCargo's internal drive reflects through the investments they make in their people. The Company continuously offer training to their staff, which includes self-training via online systems and training at Swiss WorldCargo headquarters in Zurich, Switzerland.
"Investing with our people in such manners differentiates us from other companies, I am sending my staff to training every year, as we are looking to enhance their knowledge and skill. Establishing a relationship with head quarter staff through training will bring convenience upon cooperation processes between Thai and Swiss offices. Also, I widen my staff's perspective and encourage them as part of the Company with the Staff Exchanging Program," said Mr. Manosaksaree.
The training period stretches from 3 days to a week, depending on each training objective. Aside from operational skill training, Swiss WorldCargo provides Business Education Skill Training such as negotiation skills, conflict management skills, and self-management skills as well.
"In the past, training would be focused only on each staff's responsibility. For instance, sales staff would focus their training on selling skills. In contrast, operational staff would only focus on operational skills without additional soft skills such as business operation skills," explained Mr. Manosaksaree.
Mr. Manosaksaree's Staff Exchanging Program and training programs also extend to Swiss WorldCargo staff in Cambodia and Vietnam, who are operating as Swiss WorldCargo's General Sales Agency (GSA) as well.
"Not only do we also send staff in Cambodia and Vietnam to training at Swiss WorldCargo's headquarters, but we also welcome them to Thailand for cargo handling operation training as well," Mr. Manosaksaree revealed.
Empowering Staff
Mr. Manosaksaree is determined to cultivate the 'Leadership Principles' to all Swiss WorldCargo's staff. The Principles help to enhance staff capability as they are fueling the Company's engine. It comprises factors such as 'Driving Business,' where every staff member of Mr. Manosaksaree's must thoroughly understand the Company's business structure and get involved in both selling and operating processes.
"Every staff must drive the Company forward by being involved in every step of our business processes. All of my staff are periodically exchanging their responsibilities. We systematically schedule members of staff to handle operations for a period and switch to sales in the next period. Furthermore, we have prepared our staff to readily take over their teammates' responsibilities, in case one of the staff members is taking sick leave or is on vacation," said Mr. Manosaksaree.
'Mastering Complexity', Swiss WorldCargo staff must be able to handle various factors such as customers' demands. The Company are offering their people chances to learn, to test new theories, and be free from old traditions.
"Under the crystal-clear work policy, we are encouraging our staff to make decisions in regards to their work processes personally. Should such decisions give inefficient results, we would have a meeting and find out the reason behind the staff's decisions. Although failures might be products of those decisions, ideas and foundations of such decisions could help to develop efficient results in the future," Mr. Manosaksaree shared his thoughts.
'Fostering Talent,' "Once staff are accepted to be part of the Company, I would first inform them that they would be taking responsibility in both sales and operation work. To me, good sales staff must have expertise in operations as well," said Mr. Manosaksaree.
'Multifunctional Staff,' Mr. Manosaksaree and his team are offering administrative services such as invoice documentation, sales reports, as well as accounting service, making Swiss WorldCargo Thailand office a 'One Single Service Office' with universal services.
'Leading Change,' as a response to the more competitive industry, Mr. Manosaksaree encourages his staff to be creative, recognize the importance of the change, and make a difference.
'Creating Spirit,' "Every member of personnel are important parts of the Company, regarding any positions. Teamwork or unity organization is very crucial. We are sharing the Company's progress and work efficiency through our monthly meetings, which aimed at embracing and uniting everyone as part of the business drivers," said Mr. Manosaksaree.
Mr. Manosaksaree always leaves his door open for his staff members, "we have the 'Walk Your Talk' practice, where I would be offering advice to my staff members right in front of their desks. With the conversation being carried outside, rather than inside my private office, it allows everyone to step in and help make a solution for a certain problem," he explained.
In the middle of the uncertain and competitive air freight industry, Swiss WordCargo are pushing themselves towards achievements by investing in their people, being open to new ideas and cultivating a creative mindset at the center of the organization, under the unrivaled strategy. All of the above are compositions of Swiss WordCargo's finest quality, which resembling them as number one in the industry.
อัพเดตข่าวสารและบทความที่น่าสนใจในอุตสาหกรรมโลจิสติกส์ก่อนใคร ผ่าน Line Official Account @Airfreight Logistics เพียงเพิ่มเราเป็นเพื่อน @Airfreight Logistics หรือคลิกที่นี่