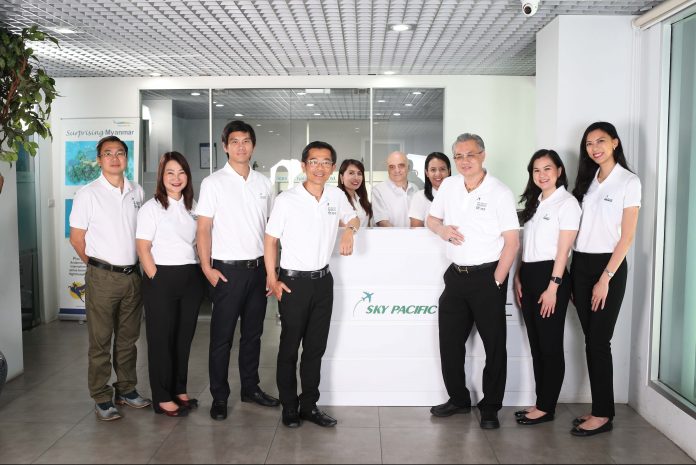 The operations behind running a successful airline can be daunting. Coping with a myriad of regulations and keeping up with the demands of customers can be overwhelming at times. The same can be said for freight forwarders who work as an intermediary between airlines and shippers. All of these companies need to work together in sync to move cargo around the globe.
With increasingly complex and evolving marketplaces around the world, the need for local knowledge and expertise is becoming more and more apparent. This is where GSAs come in, assisting both freight forwarders and airlines with the day-to-day operations of transporting people and cargo worldwide.
A short year ago, Sky Pacific emerged onto the scene in Thailand with a focus on building a strong network in Asia. With a headquarters located in Bangkok, the company is situated in one of the strongest natural hubs in the area.
Serve Local, Act Global
Sky Pacific Air Services (Thailand) has been operating as a GSA with a dedicated focus on representing and supporting the interests of airlines in different countries worldwide. They have quickly become a key player in Asia, offering outsourced services such as passenger & cargo sales and marketing, reservations, finance and fare filing.
With the slogan, "Serve Locally, Act Globally," Sky Pacific Thailand is focused on both helping their customers to operate in local markets in their controlled territories, all the while offering total global coverage.
Their network covers numerous countries throughout Asia and other regions such as Myanmar, Singapore, Malaysia, Cambodia, Los, Vietnam, China, India, Japan, Hong Kong, the USA and more.
Over the past year the company has been growing steadily, but the company was recently announced as the new GSA for passenger and the CSA for cargo of Myanmar Airways International (MAI). The new partnership looks to be a boon for both the airline and for freight forwarders looking to operate in one of the fastest growing markets in Asia.
MAI is IOSA certificated carrier and member of IATA and in 2016 was acquired by KBZ group and merged with KBZ Airline, MAI and KBZ offer the wider domestic network in Myanmar and the most attractive international connections. MAI operates twice-daily flights from Yangon to Bangkok.
While MAI is only flying in the Southeast Asian region for now, they are currently upgrading their fleet and will soon have aircraft capable of flying for up to seven hours, giving them more flexibility and the ability to increase their catchment area. But nevertheless, they still have the ability to connect passengers and cargo to destinations around the globe with their interline agreements. MAI together with Air KBZ (K7) has signed code share agreements with many airlines including Malaysia Airlines (MH), Korean Air (KE), Asiana Airlines (OZ), Garuda Indonesia (GA), SriLankan Airlines (UL) and Royal Brunei Airlines (BI).
Expanding Services
Beyond offering professional services with the right accreditations, there are numerous reasons why airlines may choose GSA. The airlines are looking to cut costs and are normally looking for a GSA to help augment their services in markets around the world where they might not have a local presence. Sky Pacific has taken this to heart and has been expanding their services rapidly to meet the demands of airlines, now including doing nearly all handling supervision at the airport. They can also prove their prowess with certifications. They are a member of FEDAGSA, an International GSSA Federation, have the IATA certificate proving they are a GSSA Company, as well as a host of other accreditations.
To learn more about their establishment, the success they've achieved so far, the new partnership with MAI, and their plans for the future, we spoke with Capt. Livio Arizzi, Corporate Vice President Alliances & Partnership of Sky Pacific Air Services.
Capt. Arizzi is a former pilot, both for the military and commercially in his home country of Italy and has been working in Asia for the past 18 years. He has vast experience in the market is partly why he was brought onboard to help guide Sky Pacific in becoming a world-class GSA.
He said, "It's only been a year so far, but Sky Pacific is growing quite fast. While I'm happy with the progress we've made so far, we are ultimately working towards building a network, not just a company which takes time."
"The industry has continued to develop, and as such GSAs have had to evolve alongside to keep up with the demands placed upon them," said Capt. Arizzi. "To be number one though, you must have a very professional staff with the right certifications, otherwise you cannot operate. However, as GSAs are often representatives of the airlines in the countries they operate in, I always stress professionality at the forefront of all dealings."
Beyond certifications, Sky Pacific is able to operate their own freighter operations, can lease aircraft ACMI or Dry, can provide flight support in terms of handling supervision and traffic right/slots/overflight and much more. Their well-rounded approach to offering top tier services is a key reason to why they are soaring above the competition in such a short amount of time.
Center of it All
Another justification for their rise in success is their supremely advantageous position in Bangkok, and all the connections it offers as Asia is arguably the best place to be for business. Bangkok is a natural hub, and there are already about 250 airlines coming to Suvarnabhumi International Airport, so the opportunity is ripe for GSAs like Sky Pacific to offer best in class services to the numerous airlines here.
Sky Pacific's goals aren't that much different than other GSAs, but they are going after them in a creative and structured way. Enlarging the network, integrating different aviation services, and expanding the freighter operations are paramount to their success. Above all, consistency, reliability, trust and relationship are key factors to prospering in the industry. Business is still done by people and Sky Pacific believes their professional and efficient team is ready to take on any challenge to achieve great results.
อัพเดตข่าวสารและบทความที่น่าสนใจในอุตสาหกรรมโลจิสติกส์ก่อนใคร ผ่าน Line Official Account @Airfreight Logistics เพียงเพิ่มเราเป็นเพื่อน @Airfreight Logistics หรือคลิกที่นี่