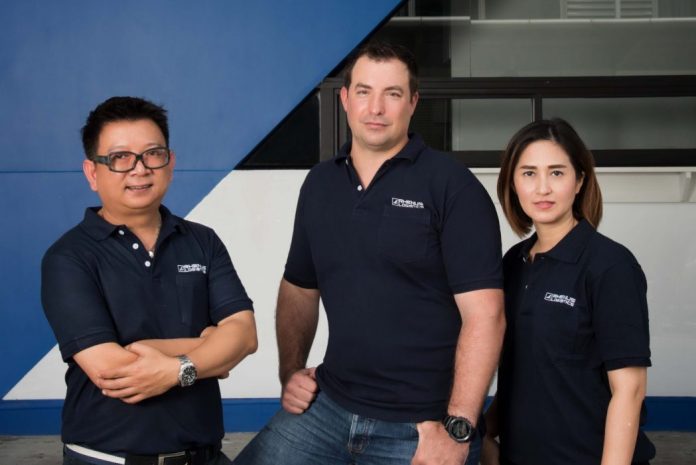 DIGITAL TECHNOLOGICAL ADVANCEMENTS ARE BECOMING EVER MORE INTERTWINED THROUGHOUT THE INNERWORKINGS OF THE LOGISTICS INDUSTRY; BOLSTERING AND CREATING NEW AVENUES FROM WHICH TO DO BUSINESS.
These advancements are allowing for higher transparency and productivity throughout the supply chain and are a welcome addition to creating higher value for the customer.
While the role of digitalization in the industry will continue to become increasingly important, the bedrock of trust and relationships in the logistics industry is still built upon people.
That's why in current times, logistics service providers that have continued to stand by their word and embrace new technologies find themselves in a unique opportunity to innovate for the betterment of the industry as a whole. Companies like Rhenus Logistics have the clout to back up their strong reputation that they have been cultivating in places around the world, especially throughout Europe where they are well known. By bringing their stringent international standards and business practices to Asia, they have begun garnering a following of loyal customers and are looking to expand their reach into the region even further.
We spoke with Mr. Joachim Hanssen – CEO Southeast Asia at Rhenus Logistics, and Mr. Sukit Phacharasorawut, General Manager – Freight Operations Thailand, to learn more about the company, their service offerings, and the role they are aiming to take in their customers' supply
Building Upon a Strong Foundation
While being widely known internationally, Rhenus Logistics is relatively new to the Southeast Asian market. In fact, they officially began operations in Thailand 20 years ago offering fully-comprehensive logistics solutions. Since then, they have grown their range of tailor-made logistics solutions to cover the needs for a large variety of industries and now offer a full range of logistics services.
Building upon the stability and values placed upon them by being a family-owned business, along with embracing high-tech systems to enhance their in-depth industry know-how, has allowed Rhenus to thrive in current market conditions.
Mr. Hanssen himself is walking example of these values in action, as he has been a part of the Rhenus Logistics family for almost two decades. His proven loyalty, focus, and drive has allowed him to take on new challenges and allowed him to step up to his current position as CEO Southeast Asia.
Mr. Hanssen said, "I first entered into the logistics field in Belgium looking for international opportunities, and after a short training program, I was stationed in Kazakhstan. Over my 6-year tenure in Kazakhstan I was presented with the opportunity to takeover an office of just 2 people which I helped to transform into a very profitable mid-size office to handle the flourishing business."
After spending 6 years in Kazakhstan and another 5 years in China, Thailand beckoned and as Mr. Hanssen says, "I never stopped being intrigued by people and their different cultures, this is partly what drove me to the logistics in the first place. Being responsible for the Southeast Asian region now, I am overseeing the growth of air, ocean, road and warehousing solutions throughout the market, and I am learning new things every day. You will never understand everything and that's why it's important to have a strong team that has your back."
Family Atmosphere
Rhenus Logistics' continued strong growth is due in part to their focus on keeping the company family-owned. These 'family values' trickle down throughout all aspects of the company and is something that everyone from the front-line worker to upper management truly feels. A flatter organizational structure leads to better interactions and understanding in the organization and really does bring the corporate culture closer to the 'family' like feeling. This culminates into an understanding of common goals that everyone in the organization is aligned with and is what gives their organization the drive and flexibility to offer a full suite of services for customers.
Mr. Phacharasorawut echoes much of these same sentiments as he describes how he has been in the logistics and international freight forwarding world for over 20 years. His current job as operation manager has him overseeing many parts of the business, including air, ocean, road and customs clearance. He explained that, "At Rhenus Logistics the 'flat' organization culture shines through as team leaders have full responsibility and authority to manage their own teams resulting in fast decision making. All the while, an operational back office team is there to support the sales team. It's important that both the sales and operations teams be in constant cooperation and communication with each other. For example, whenever a sales team member receives any special requirement from customers, they have to coordinate with the operations team and work together to create solutions that best meet the requirements of our customers. This type of team-oriented workmanship has been critical to elevating our services to new heights. It's a special place to be working here at Rhenus Logistics and I feel we are poised for even more great success."
Air Freight Specialists
Thailand's status as a 'hub' for the region is readily apparent thanks to its strategic location situated directly in the middle of a number of Southeast Asian countries hungry for exporting and importing their products to and from international markets.
As such, Suvarnabhumi Airport in Bangkok has become extremely important. In Thailand and throughout the region, more and more shipments are turning towards the safe, quick, and reliable transportation that air freight can deliver. Beyond just general cargo, specialized goods such as textiles, electronics, pharmaceuticals, and dangerous goods are important areas that quality providers like Rhenus Logistics look to handle for customers.
Mr. Phacharasorawut explained, "Our one-stop service for air freight customers offers a dedicated single point of contact, flexible choice of airlines, the best connections, and highly competitive rates.
In order to better service our customers, we have set up a cross-dock hub 10 minutes away from Suvarnabhumi airport in order to consolidate cargo to and from the airport with daily runs all over the country. Next to this, we operate an in-house customs clearance division running a 24/7 service.
He continued, "We are proud that Rhenus Logistics is the holder of the AEO (Authorized Economic Operator) license in Thailand, which enables us with the ability to offer privileged customs clearance services to our customers. We have also attained ISO 9001, 14001, 18001 certification, and right now we're preparing for ISO 22301 certification, which is focused on business continuity management. We keep improving our services and apply for more ISO certifications because we believe in them and it helps to differentiate ourselves."
Expanding Operations
The growth of Rhenus Logistics both in terms of sales and the retention of highly trained staff is a sign of quality throughout the organization. We asked Mr. Hanssen how he plans to keep the momentum moving forward to expand Rhenus Logistics' operations in Thailand and Southeast Asia.
He said, "In order to continue improving and expanding our operations, we have both a vision and strategy at domestic and regional level. For example, we believe that the value generated by each office should stay in that office; not only for the benefit and development of the office itself, but also for the specific sales person that's generating this value."
"That's why we have implemented a transparent billing system within the network that gives our staff full visibility and performance reports. In addition to this transparency, we have an incentive system to encourage and attract the best sales talent to the company. This is made feasible thanks to the continued technological developments that are being made within the group. We are collectively pushing for global standardization and transparency throughout our organization to give our clients the best services and prices possible.
"The vision and strategy set by Rhenus Logistics is assisted and made possible by the use of technology but can only be implemented and acted upon with high-quality staff. This is why we put a big effort in creating a working environment to attract and retain the best talent in the market. This combination of technology and high-quality staff is what gives their company such strength and allows them to continue to grow."
Mr. Hanssen concluded, "I believe our group has a fresh mind and a fresh heart that is ready to give it all for the betterment of our customers' business. We're not content to sit idly by; Rhenus Logistics is continuing to innovate, and we always will be as we plan towards a mutual successful future hand-in-hand with our customers."
About Rhenus Logistics:
Overall turnover at the Rhenus Group tops € 4.8 billion, making it one of the bigger players amongst global logistics service companies. Rhenus has business locations at more than 610 locations worldwide and employs 29,000 people. The Rhenus business areas – Contract Logistics, Freight Logistics, Port Logistics and Public Transport – manage complex supply chains and provide a wealth of innovative value-added services. For more information visit their website at www.th.rhenus.com
อัพเดตข่าวสารและบทความที่น่าสนใจในอุตสาหกรรมโลจิสติกส์ก่อนใคร ผ่าน Line Official Account @Airfreight Logistics เพียงเพิ่มเราเป็นเพื่อน @Airfreight Logistics หรือคลิกที่นี่