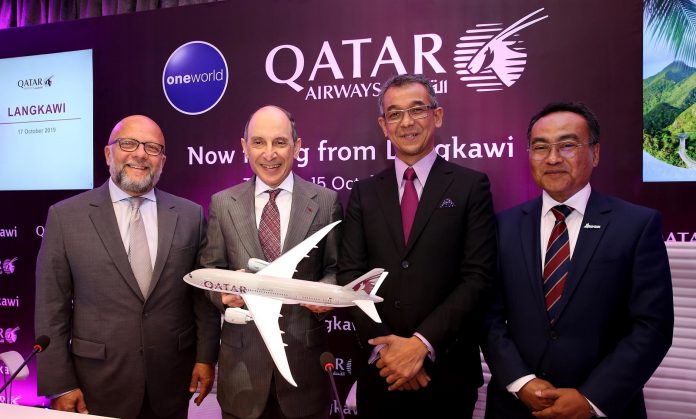 Qatar Airways has announced four-times-weekly flights to Langkawi that will be operated by a Boeing 787 Dreamliner, expanding to five-times-weekly from 27 October 2019.
General Manager, Airline Marketing of Malaysia Airports, Mr. Mohamed Sallauddin Mat Sah, said: "We take immense pleasure in welcoming Qatar Airways to Langkawi International Airport (LGK) who has been our airline partner at the Kuala Lumpur International Airport for the past 18 years. Early last year, Qatar Airways began flying direct to Penang International Airport from Doha. This new flight to LGK, which is an extended route via Penang, will definitely be a great addition to the international airlines operating at LGK."
Qatar Airways began direct services to Kuala Lumpur in 2001, and launched its Penang service in 2018. The airline currently provides more than 25 flights per week to Malaysia. In October 2001, Qatar Airways announced its codeshare agreement with Malaysian Airlines, and this was expanded in 2018.
As one of the world's leading international air cargo carriers, Qatar Airways Cargo already has a large presence in Malaysia, operating belly-hold flights to and from Kuala Lumpur that offer up to 300 tonnes per week with efficient connections to Europe, the Middle East and Africa via the carrier's state-of-the-art hub in Doha. Langkawi will also join Qatar Airways' air freight network, with the carrier's cargo arm offering up to 40 tonnes per week to and from Langkawi via Penang each week.
The new service to Langkawi, is part of the airline's strong expansion plans in Southeast Asia and marks Qatar Airways' third destination in Malaysia after Kuala Lumpur and Penang. Qatar Airways will initially start with four-times weekly Langkawi tag services via Penang with an increase up to five-times weekly services from 27 October 2019 on its state-of-the-art Boeing 787 Dreamliner aircraft.