As the fastest-growing air cargo brand worldwide, offering services to over 300 destinations globally, Turkish Cargo carries out its air cargo transportation operations with many highly skilled workers. These essential logistics operations include several occupations, from pilots to loadmasters who work around the clock to ensure seamless handling, transportation, and delivery of air cargo.
According to data released by the International Air Transport Association (IATA), Turkish Cargo recently rose to become one of the world's top three air cargo brands in June 2021, after sitting in sixth place at the same period last year. In the same month, the FTK (Freight Tonne Kilometres) data obtained from multiplying cargo tonnage carried by air with the kilometres it was carried also suggests that the Turkish national airline achieved the most significant growth ratio amongst the top 25 air cargo carriers with a 5.7 percent market share. The world's fastest-growing cargo airline currently operates a fleet of 372 aircraft, 25 of which are freighters, across 127 countries worldwide. To enable the seamless cargo handling and transportation of all air cargo shipments, the airline makes sure that its cargo operations are taken care of by experienced specialists and a team of industry-leading experts.

For the loadmaster, safe cargo transportation requires high mathematical knowledge, hard work, and rapid analysis and evaluation skills, but what professional skills are necessary for those who work in other air cargo operations? And what aspects of their work do they find most enjoyable in this fast-paced working environment?
To get to know more about their professions and how vital their roles are to the air freight industry and Turkish Cargo's success, we will take you behind-the-scenes at Turkish Cargo to meet the heroes of its air cargo operations.
Heroes of Air Cargo Operations
A Talented Loadmaster, Koray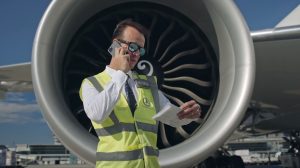 Mr. Koray Tunç, Loadmaster at Turkish Cargo, explained, "Working as a Loadmaster simply means being a loading expert. However, loading 100 tons of cargo on a plane that flies at great speeds at an altitude of 10,000 metres is not an easy task. We also carry special cargoes such as flowers, animals, dangerous substances, vaccines, and medicines from time to time. Even a small calculation error can cause serious problems, both on the ground and in the air. I think one of the best things about being an aviator is travelling the world. You meet people from different cultures everywhere you go, giving you a wider world view." He continued, "One of the beautiful aspects of working at Turkish Cargo is that you know you are in a huge operation; you are playing an important part of the overall air cargo transportation process. Working here as a Loadmaster really makes me proud."
Mehmet Tuncer, a Turkish Cargo Check-in Specialist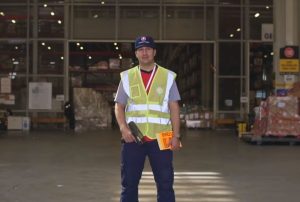 "In short, my job is to check. I check the incoming cargo and tell operators where to take it. I love my job because I'm not a desk-job type of person. Being in the operations, being on the field, and being active is what suits me. The aviation industry is a prestigious field, and it is satisfying to be a part of a large international organisation. Like all of my friends working at Turkish Cargo, the happiest moment for me is when the cargo is smoothly loaded on the plane, and the plane takes off. Cargo operation requires many different people to work in sync so that everything happens on time at Turkish Cargo." Said Mr. Mehmet Tuncer, Check-in Officer at Turkish Cargo.
An Operation Control Officer, Oğuzhan and the Team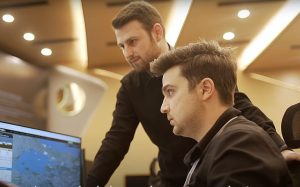 Mr. Oğuzhan Erkus, Operation Control Officer, said, "I provide coordination by building a bridge between flight and cargo operations. I follow the process of a freighter from pre-flight to the completion of the flight, from start to finish. We are always desk-bound as a team, but our work pace is very high, and we are in contact with many countries daily. There is one thing we all care about, that is, the aircraft taking off on time. One of the most enjoyable aspects of my job is seeing a freighter you planned in the air and hear its sound; it is a very rewarding feeling to be able to say, 'that's the flight I planned'."
Ulas Berk Bayramoglu, One of the Turkish Cargo Pilots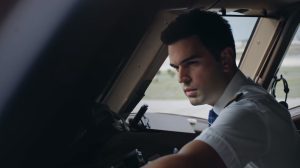 Mr. Ulas Berk Bayramoglu, Pilot at Turkish Cargo, stated, "I work as a first officer on the Boeing 777 and 787 fleets. We use the latest technology and the most modern aircraft in the world, and I feel very proud to operate them. Imagine flying at an altitude of 11,000 metres from the ground, sometimes towards the sunrise and sometimes towards the sunset. The whole world is under your feet, and you are free within the light blue. I mean, that freedom is an indescribable feeling. We carry such a range of products through special operations, and there are very few companies around the world that can carry out such operations. Seeing the happiness and joy in people's faces is also an incredible feeling. The amount of responsibility Turkish Cargo took during this period and their way of doing business was truly admirable, and I am actually proud of myself for being a part of it."
A Smiling Customer Service Officer, Tuba Yılmaz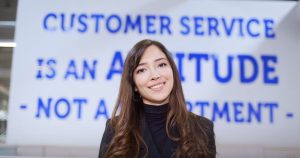 "I have been part of the Turkish Cargo family for three years. I work in the Cargo Customer Services Department. Here, my job is to coordinate between domestic and international stations in line with the demands of our customers and to inform our customers 24/7 without interruption. I think a brand's approach to customer service determines how customers view that brand. If we are smiling, those who communicate with us also smile. So, we work here as a team with this awareness. Our goal is to help people and ensure they have a pleasant experience with Turkish Cargo," said Ms. Tuba Yılmaz, Customer Service Officer.
An Explosive Detection Dog, Aska and her Handler, Sezer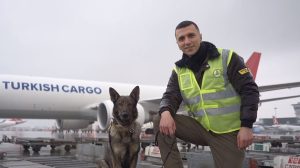 Mr. Sezer Canavar, an Explosive Detection Dog Handler, says, "It is a grave responsibility to ensure security in a system where tons of cargo is transported all over the world every day. I am fortunate to share this great responsibility with Aska, a brilliant, hardworking, professional, and excited teammate. Aska is an explosive detection dog. She has been trained to detect explosives and bombs since the day she was born. We play a game with a reward at every security check. That's why I can say that we are both delighted while working."
---

อัพเดตข่าวสารและบทความที่น่าสนใจในอุตสาหกรรมโลจิสติกส์ก่อนใคร ผ่าน Line Official Account @Airfreight Logistics เพียงเพิ่มเราเป็นเพื่อน @Airfreight Logistics หรือคลิกที่นี่