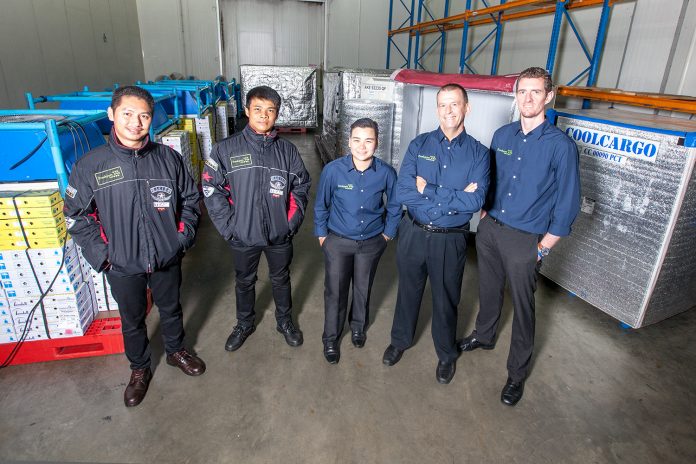 The transportation of goods by air may seem like a mundane process to the uninitiated; as simple as flying a product from one place to another, but in reality there are so many gears turning behind the scenes to make a shipment fly smoothly. Pharmaceuticals and perishable items add another wrinkle to the equation as they must be closely monitored and kept under strict temperature control throughout the journey.
With so many different handling steps throughout an entire air cargo journey, it is very difficult to control and it's common for things to go wrong leaving sensitive cargo exposed to risk due to temperature issues. Experts in the field of cool cargo shipments, such as Freshport Asia, have an important and sensitive job when it comes to keeping cargo cool under the heat on the tarmac and throughout the end-to-end supply chain as a whole. In this issue of AFL, we sat down with Mr. Chris Catto-Smith, Managing Director; and Mr. Christopher Reichert, Operations Manager at Freshport Asia, to get a deeper insight into what it takes to be the coolest operator in town.
Keeping the Chain Unbroken
The demand for perishable food items has always been a substantial part of global trade, but the need to reduce waste and inefficiency shipping perishables in polystyrene or with no protection at all has driven the need for improvement and cost control. There has also been a sharp rise in demand for quality handling of temperature sensitive pharmaceutical air cargo. These highly valuable and sensitive shipments need to be closely monitored throughout the journey to ensure that the cool chain is left unbroken and the product quality maintained. Specifically with pharmaceuticals (such as vaccines), if the shipment is out of its acceptable temperature range for too long, it can damage the product and by law it is illegal to sell the pharmaceutical product and it must be disposed of leading to a huge loss for all involved. Many of the pharmaceutical and perishable products must be kept under stringent temperature control around a chilly 2°C – 5°C or other defined ranges. Keeping a product that cool throughout its entire supply chain, especially under the blazing heat of the sun on the tarmac that can easily reach over 50°C inside an aluminum ULD is quite an undertaking.
Technology has of course played a big part in helping to keep special cargo ice cold. Innovations like active refrigeration envirotainer units while effective are both heavy and expensive to use, leading to many shippers choosing to use the old standard of styrofoam and gel packs to try and keep shipments cool. As Mr. Catto-Smith mentioned, "these 'cheaper' solutions are not effective, as boxes are often opened for phytosanitary inspections and not resealed properly after inspection. Putting styrofoam boxes in cold rooms is not beneficial either as the insulated containers take time to get back down to the right temperature. They're also bulky which reduces the valuable cargo capacity and are an unrecyclable piece of waste on the receiving end, causing additional disposal cost. Importers are often required to rent expensive garbage bins and pack them full of discarded foam and waste from shipping that's then sent to a landfill.
The use of gel packs is also an unforeseen waste of money, with shippers having to pay airfreight and then they are discarded at the destination. We always try to reduce waste, and most of the time these types of boxes and gel ice packs are not effective or used correctly. Most likely a shipper is forced to use gel and foam as the subsequent handling lacks cold chain control or effectiveness. Most inbound cold chain transport used to deliver products is also out of specification or insufficient to cool products after it has been exposed to heat spikes during loading. For fresh produce loss and damage, reduced shelf life accounts for 25% of the value of the product shipped and airfreight must be paid on top after the product is thrown away or rejected at destination. It's another expense you can take out of the supply chain."
"Without using styrofoam or gel packs – the Freshport process uses a tight set of process steps that includes monitoring from the pack house, thermal covers, forced air cooling, and lining aircraft containers; allowing products to be loaded onto aircraft with the right level of protection and to reach its destination at a stable temperature, maximizing shelf life and quality. In parallel, denser cargo (by avoiding styrofaom) and reduced claims, means a lower cost to ship products, enabling them to be sold at a premium price. Our philosophy is that there has to be an easier and cheaper way to ship these products; you really need to know the commodity and the handling steps from pack house to import clearing agent. If the container requires an envirotainer, we'll recommend it, but it may be overkill. Many times the solution is to work with shippers to ensure products are delivered in good condition and at the right temperature. Our process includes additional pre-cooling in the cargo terminal, loading into specialty insulated aircraft containers, and protecting the container with additional liners all the way out to the aircraft. Our services can help everyone along the supply chain by offering airlines additional billable freight revenue; for the shipper lower airfreight costs; and for the importer higher quality products and less waste. Every baht spent on the cool chain service can save the overall supply chain around 3 -4 baht."
Driving Change
A real key to Freshport's success comes from a deep knowledge of products, end-to-end handling steps, working with shippers, forwarders, cargo terminals, and importers to reduce risk at each handling step. In a cold chain, these are all linked and necessary to ensure the quality of the product they're receiving is the highest possible. At the terminal, general cargo is handled, well, generally by workers who are paid to just pack and unpack.
As Mr. Reichert puts it, "our focus is on planning ahead each shipment, knowing the products and then focusing on speed, temperature integrity, and good supervision. In addition to fresh produce exports, we also take care of import cold chain care, particularly pharma products that are vulnerable to temperature issues. Our mission is once the product touches down and is off the plane, is to protect it from the time it is unloaded from the aircraft and bought to the cargo terminal, and then to make sure that it's stored correctly according to the customers' requirements and instructions.
For example, some common customer requests are that they don't want shipments broken down outside the cool rooms. We observe all their requests and ensure inbound containers are broken down in a temperature controlled environment with constant temperature monitoring; our handling standards align to airline cold chain service offerings. Beyond following these instructions, we also offer our expertise into how these orders should be stored, packed and shipped. We help companies looking to improve their supply chain cool cargo shipment methods by offering our expertise and experience."
Mr. Reichert went further into a recent experience he had and where their services helped ensure a customer's shipment was safe until the goods could be picked up. "We recently had a shipment over Songkran, the largest and longest holiday in Thailand, where a customer called and told us about a shipment coming in a temperature controlled box that would only maintain its temperature three days. The third day happened to be the last day of the holiday, and the customer couldn't come to pick it up until the day after. They were very specific on the time of the day even; at 2PM they needed it taken out of a 15°C-20°C room and put into a colder environment. When you've got whole warehouses full of cargo, one break in the cold chain and the whole shipment is ruined. We provide customer confidence and a peace of mind that their cool cargo will be handled correctly. It's that kind of attention to detail we can give a customer."
One Company, Multiple Solutions
Freshport Asia operates a cold chain service under the Bangkok Flight Services (BFS) banner and is the operating management company for BFS Cool Care. BFS gives Freshport Asia the flexibility to do what they do best, and trusts them to handle their cool care business. BFS supplies Freshport with the tools, facilities, and general labor, but Freshport does the rest. Rather than be secretive about the process, Freshport Asia brings a refreshing open view into their operations and gives a larger picture into what's happening with the cargo they're handling. Customers want the whole picture, and Freshport Asia gives it to them with photos, times, and temperature readings for cargo throughout its journey.
"We sell our expertise, knowledge, and our specialty service and care – it's about offering a temperature control and quality handling solution that pays for itself. Part of what we're trying to achieve is getting the word out to customers that can use us as an end-to-end cost saving tool. We're not the be-all-end-all to your supply chain, but we offer a proven solution you can utilize," said Mr. Reichert.
"For instance, an agent can use us as a value added marketing tool. Airlines and shippers can use us as part of their existing cool chain product offerings as a service to their customers. We can also be integrated into a whole shipping plan, such as a Thai food promotion in Europe as recently sponsored by an international retailer, and that's the beauty of being independent. We're affiliated with BFS, a neutral cargo terminal that can work with everyone, and we follow the same principal of being able to help any customer that comes to us. We're perfect for a freight forwarder that has to deal multiple airlines and does not have its own cold chain capabilities, because we are not owned by an airline. We charge on a weight basis, so there's no confusion, everyone knows what the volume weight is and can compare against losses that volumetric freight, styrofoam and gel packs create. We're growing this business successfully because of our reputation for quality service and our track record of zero claims or damages since our service commenced and we continuously looking to help other companies improve their business as well."
อัพเดตข่าวสารและบทความที่น่าสนใจในอุตสาหกรรมโลจิสติกส์ก่อนใคร ผ่าน Line Official Account @Airfreight Logistics เพียงเพิ่มเราเป็นเพื่อน @Airfreight Logistics หรือคลิกที่นี่