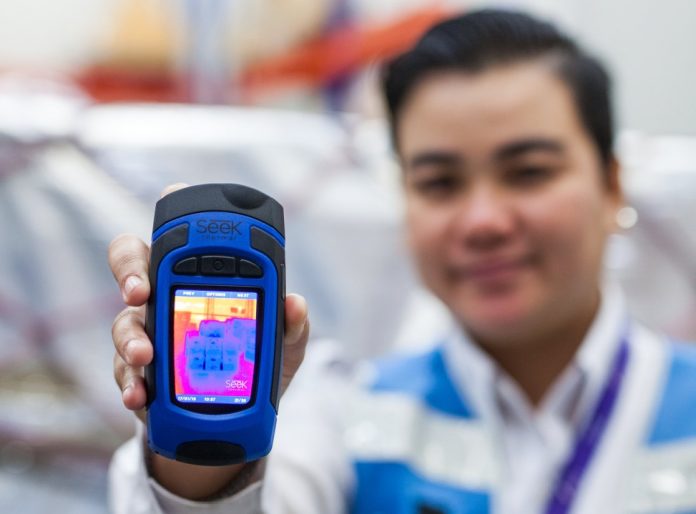 Receiving a fresh, beautiful bouquet of flowers is a wonderful surprise for nearly anyone. The crisp blossoming aroma that emanates throughout a room is something that should be enjoyed as a long-lasting centerpiece for a mantle. Yet seemingly overnight, the all too familiar unsightly wilted vase can appear, invalidating a purchase and the hopes of repeat business with the receiving customer. Somewhere along the line the cool chain was broken cutting the vase life short; however, these issues could have been prevented.
No matter how careful a shipper is, transporting cargo by air freight comes with inherent risks. For cool care and perishable shipments, the opportunity for mishaps are heightened even further. While cargo and shipments vary, there are a number of touch points along the way that inevitably can cause problems. Ensuring that goods reach their destination in an appropriate temperature range takes experience and know-how.
Experts like Freshport Asia have the important task of protecting their customers shipments from unnecessary risk. Through years of real world experience, they have proven their ability to solve and predict issues that can occur with sensitive shipments. Mr. Chris Reichert, Operations Director at Freshport Asia, explains that by looking at the entire end-to-end supply chain, they have been able to expand their services to better match the increasing needs of customers, as well as introducing new technologies to enhance their solutions minded approach.
Flexible Solutions
Freshport Asia is a leading logistics consultancy company specializing in cool chain transport solutions and have worked for many large clients throughout Southeast Asia over the past 10 years. One of their key businesses is operating a specialized air freight handling service for perishable goods on behalf of BFS Cargo inside the free zone at Bangkok international airport. Their line of services has been expanding over the years, but they still keep a focus on their core business.
Key drivers for Freshport Asia's success comes from a deep knowledge of products and end-to-end handling steps that includes working with all the partners in the supply chain to improve efficiency to reduce costs and risk at each handling step. Especially in cool chain, all of these processes are intertwined and keeping an unbroken link is crucial to ensuring a quality deliverable product.
Mr. Reichert said, "Our main service incorporates best handling practices guided by IATA standards. Our mission is to ensure that once the product is delivered to the airport whether it be by truck for export or air for import, we're there to protect it from the extreme Thailand weather conditions, but also from the human element where handling mishaps are often made. Once received into the cargo terminal, our emphasis switches to maintaining temperature controls, best practice handling and customer liaison so we're offering a complete package. Below this high-level supervised service, we offer a range of mid-level and value add services that may better suit a customer's requirement once they have assessed their level of need."

This flexibility is at the core of their business and is why Freshport Asia is rising in popularity. Some products are highly perishable, and some aren't; customers are given options to pick and choose the services that best fits their supply chain requirement. This flexibility is enabling more opportunities to expand their level of services even further. For instance, Mr. Reichert said they will start offering a specific export service for flowers.
He said, "We're beginning to offer an increasing number of services that customers can pull from. One such new service we now offer is Flowercare, as we see a need in the market for temperature recovery and/or stability before aircraft departure. Thailand is famous for their orchids and their optimal temperature range is between 12 – 15 Celsius. Because of several factors our customers don't normally require the full-service package. What we offer instead is a simple service of receiving, cooling, storage and loading all under controlled conditions. It's an inexpensive service and is great for traders and packing houses that may not have their own cooling facilities and rely on inbound cool trucks to chill the product, which isn't it's intended function. In the end, it's a simple, economical, and effective tool that we hope will benefit the orchid export industry.
Adding to the customization and flexibility of their services, from the feedback they've received, Mr. Reichert says that the time of the year can play a big part to when and how customers' use their service. For example, during the cool part of the year shipping cool cargo is easier and airline claims are lower, however the hot season is the exact opposite.
The type of aircraft and whether the flight is direct or not can play a big role in the risk management strategy for customers as well. When opting for more cost-effective flights, stop overs are a necessary burden that increases the amount of touch points and risk involved. Especially likely is the fact that many of these flights will have stops in countries where the thermometer is known to reach 40 or 45 degrees Celsius in the hot season, the risk is substantially increased. Freshport Asia's opt in/out strategy helps to alleviate some of these concerns, as customers can choose the services they need based on the risk involved with each individual shipment.
Innovative Tech

Alongside their adaptable solutions, Freshport Asia has begun introducing new technologies into their day-to-day operations, like their most recent investment into infrared thermal cameras. These devices are small and have a myriad of uses not just at the free zone, but throughout the entire end-to-end supply chain.
Mr. Reichert said, "We've been looking into infrared technology for years now, but it has always been very expensive and the equipment large and unwieldy. The technology itself isn't exactly new as it was originally used by fire inspectors and electrical engineers to find hot spots, but it's an innovation bringing it over into our line of work. Recent years have seen the technology reduced to a point where it can fit into the palm of your hand. We invested into a few units and have been testing them over the past few months and have found them to be very beneficial to our work. It's very easy to use, it's as simple as point and shoot and works in different environments. While we've been mostly using it internally to begin with, we've found it very advantageous and is something we will be using more and more in future to improve our solution design capabilities"
Being able to visually see a problem area is a powerful tool and enabler for action. Freshport Asia's infrared devices have a variety of different filters and colors, that directs the user to exactly where the problem area is stemming from. While it has it's uses at the free zone, this type of technology shines in assessing a complete supply chain. For example, Mr. Reichert said, "we can add further value to customers by offering supply chain efficiency assessments of packing houses or truck transfers. The device can help to determine how quickly temperature loss occurs once a shipment is unloaded and out of a non-controlled environment."
All these little details and improvements in the end-to-end supply chain do add up. Mr. Reichert said, "Half of what we do on the consultancy side of our business is looking for energy efficiency and cost savings and of course working on the next level of improvement. We do this by not only employing innovative technologies, such as infrared thermal cameras and data recorders but investing time in learning how to accurately interpret the information. Shipping perishables by air freight comes with inherent risks, but by using these types of technologies we're better able to identify risks in the supply chain and address these potential problem areas before they become an issue."
อัพเดตข่าวสารและบทความที่น่าสนใจในอุตสาหกรรมโลจิสติกส์ก่อนใคร ผ่าน Line Official Account @Airfreight Logistics เพียงเพิ่มเราเป็นเพื่อน @Airfreight Logistics หรือคลิกที่นี่