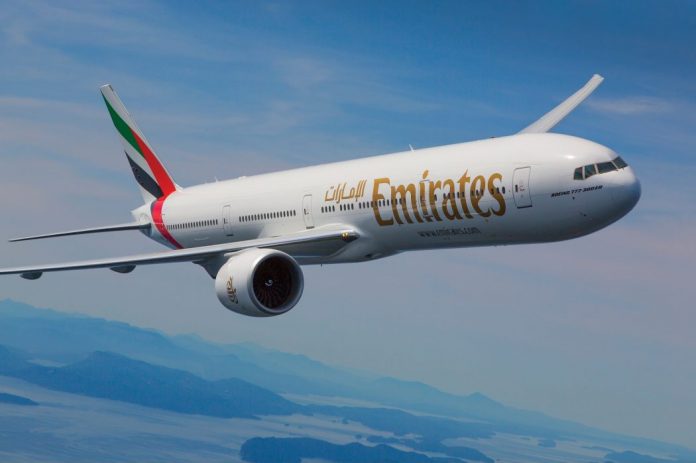 Dubai-based Emirates Airlines Flight Operations division recently announced they had developed an ingenious navigation technique that enables them to increase cargo capacity into Kabul International Airport in Afghanistan.
The new innovation developed by the airline for their missed-approach procedure replaces an older technique that required cargo en route to the Afghanistani capital to be offloaded in Dubai during poor visibility or low-cloud weather conditions at Kabul International.
Emirates Airlines operate a daily flight to Kabul using one of their Boeing 777-300ER aircraft, and since the new procedure began, the airline increased their capacity, adding an extra 250 tonnes of cargo into Kabul during low-cloud conditions, that was previously not possible.
The benefits form the new process are far reaching such as increased facilitation of trade to and from Afghanistan and overall more streamlined cargo operations to Kabul resulting in improved fuel efficiency and customer satisfaction.
Kabul International Airport is located in a wide valley 5,500 feet above sea level and is completely surrounded by mountains that are more than 11,000 feet tall, making landings there even in good weather conditions a real challenge for the pilots. Due to the precarious location and terrain, the airport has a number of constraints.
The primary runway at Kabul, Runway 29 uses two established missed-approach procedures, of which one requires the aircraft to climb at a steep angle when cloud cover is lower than 1,200 feet. Before the new innovation, whenever meteorological reports predicted cloud cover below this level, cargo would have to be offloaded in Dubai to make the aircraft light enough to execute the missed approach.
One disadvantage of this safety precaution resulted in cargo arriving late which lead to additional costs being incurred for both Emirates and the customer. Emirates Flight Operations Support teams devised a new missed-approach navigation procedure idea that would optimize cargo loads without compromising on safety. The new procedure has an easier climb gradient for Kabul airport's Runway 29 taking advantage of the Boeing 777 aircraft's superior navigational accuracy.
The teams from emirates worked in conjunction with DFS Aviation Services, a specialist flight design agency with regulatory credentials to analyse the terrain around the airport and develop a new procedure that could be implemented without delays. As soon as the new design was ready it was coded into the Emirates Flight Management System and thoroughly tested on their flight simulators to confirm theoretical performance calculations along with making sure the aircraft would be able to clear any immediate danger from obstacles in case of a go around.