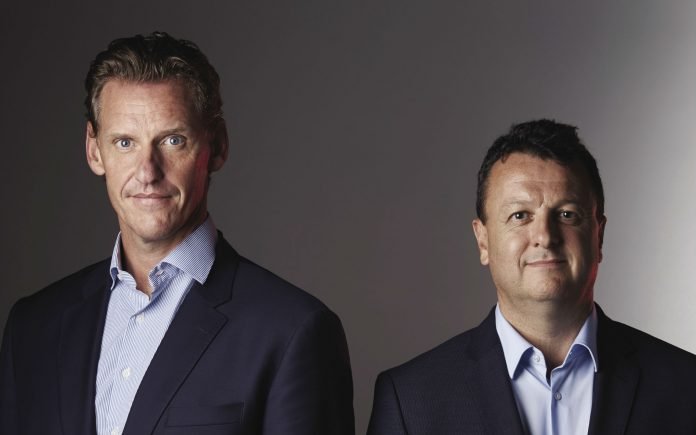 From the railroad and Gottfried Schenker to a global, leading logistics provider today, the success story of Schenker logistics experts dates back to the 19th century. DB AG laid the foundation for a world-renowned combination of logistics leaders — Stinnes AG and Schenker — in 2002, giving both Deutsche Bahn and Schenker a rich history.
Beyond just Europe, the company has pushed into regions around the world. As their reach and scope continue to expand, we were honored to recently visit with Mr. Jochen Thewes CEO of DB Schenker and Mr. Dean Thorpe, CEO Thailand, Myanmar and Laos. Their acute knowledge and experiences in developing teams, building customer and supplier relationships and being socially responsible are all key for growing their business as they push into the future as an innovator in the logistics industry.
Changing Trade Patterns
As the CEO for of one of the largest logistics organizations in the world, Mr. Thewes has much placed upon his shoulders, yet, from his position and his interactions with other leaders in logistics gives him a view into worldwide trade that many may never see. With that in mind, we took this time with him as a great opportunity to learn more about changing global trade patterns.
Mr. Thewes said, "Overall, there's a lot of change and a lot of uncertainty in the market currently. Regulations are constantly changing, there is a push for more protectionism, and technology is a major driver for change for everyone. A large change we are seeing is around the environment where a consciousness effort is being seen with our customers who are caring more about their CO2 footprint. As an industry we have a big share in that, and I think it's clear that transport will continue to increase. We can all also agree that CO2 emissions cannot increase at the same scale; we have to do something as an industry and we have to do something as a company, which is something at the top of our agenda now."
For those in Asia, there is a type of 'crystal ball' that they can look into with what has already happened in other places around the world, like Europe. Based on this Mr. Thewes explained, "Trade has helped tremendously with the economic and social development of many countries. If there's one thing that has clearly helped the continuous growth and wealth creation in Europe, it was the formation of one European market. Today, you have powerhouses like the USA and China, and even a strong country like Germany would have a tough time being equal and negotiating trade with them alone. The free flow of goods and trade between the countries in Europe has clearly helped to drive economic development. If we look at ASEAN, many of these same principles could be applied. Easier customs procedures for flow of goods would help the region to become a powerhouse in a way that could may be even rival China. The intra-Asia market is by far the fastest growing market in the world, the domestic and cross-border trade here is becoming increasingly important for us."
While a global company like DB Schenker may come off as only being accessible to large players in the market, nothing could be further from the truth. Their base has always traditionally been small to medium sized businesses. Mr. Thewes said, "What makes us so strong and what makes us successful is that we are really proficient at servicing the small shipper. They get a great tailored service from us; it's really about having the right solution. So, for our office in in a small town that customer is very important, and we service that customer with local knowhow and local capabilities so that they really feel satisfied, after all we are in the service business."
What makes us so strong and what makes us successful is that we are really proficient at servicing the small shipper. They get a great tailored service from us; it's really about having the right solution.
Making the Investment
DB Schenker is actually one of the oldest logistics companies operating in Thailand, and as mentioned they have been operating in Asia for many years. However, the robust and responsive organization they've built are being put to the test as the Asian market is in a transition at the moment from being solely focused on import/export of goods to having a thriving domestic market. The function and needs of businesses in the region are everchanging and maturing. To meet these needs DB Schenker has been investing within to both hire and train qualified people to help them exceed customer expectations.
Mr. Thorpe began by explaining that his job in Thailand is focused on bringing everything together in front of the client, a task which is not always simple or easy. "Responding to a customer's unique supply chain challenges and seeing how we can best optimize their supply chain needs is quite a differentiator for our service. With global scale and a local touch, we're able to offer a variety of customized solutions for each client. When we engage the client, we do it both in terms of putting solutions together and importantly also how-to operators. We're a service industry where everything we do is focused around customer service. If our people and our team are happy and they're well-trained, then they will likely service customers well. We need to provide a consistent operation and service, and to do that we need the right people in our organization."
He continued, "I think what you'll find at any company big or small, whether it's successful or whether it's a great company often depends on the leadership team; and we've got a really strong leadership team here. They truly care for their team and for their people. I think that's really important and now what we've tried to do is to work together as a team. We're not in individual silos, our organization is more open. We want to give people a level of responsibility to be able to step up and take some chances and learn something new, and for the ones that want to do that we support them. Even if they get it wrong, that's okay, we view it as a learning experience, which we will then try and improve the next time. It's important for us to work together to find innovative solutions, try to do new things and learn from them."
While today's business is still based around personal relationships the way customers are choosing to communicate and interact is also evolving. For many, a chat or text message is their preferred way of communication. As logistics will always be a service industry, catering to what a customer prefers is paramount. Having staff that are adept, flexible, and able to accommodate the latest means of communications is an important angle for any logistics organization to possess. While much of the communication process is going digital, a combination of 'new and old' should still be kept. Customers that want to have a personal relationship and a salesperson to talk to should still be accommodated. That's where DB Schenker is innovating with their ability to offer a fully digital experience where a customer can, for example, book an ocean container from China to Laem Chabang without lifting the phone. It's important to continue evaluating and understanding what customers want and delivering an engaging and easy to navigate experience.
"We need to give them the choice, be it a telephone call or if it's a digital interaction then either way we are happy to support it," said Mr. Thewes. "At the end of the day what one should not forget is, yes digital is crucial, but at some point, somebody needs to actually move the cargo. The combination of having an easy to access and navigate front end is important, but then when it comes to the physical execution this is where challenges arise, and this is what we have built expertise across our journey of over 145 years of operations. I think the race is currently on when the digital players build logistics capabilities faster than we build digital knowhow and I think at the moment we are still well positioned to take on that race so we're game, we're not shying away and look forward to competing on the digital front."
อัพเดตข่าวสารและบทความที่น่าสนใจในอุตสาหกรรมโลจิสติกส์ก่อนใคร ผ่าน Line Official Account @Airfreight Logistics เพียงเพิ่มเราเป็นเพื่อน @Airfreight Logistics หรือคลิกที่นี่