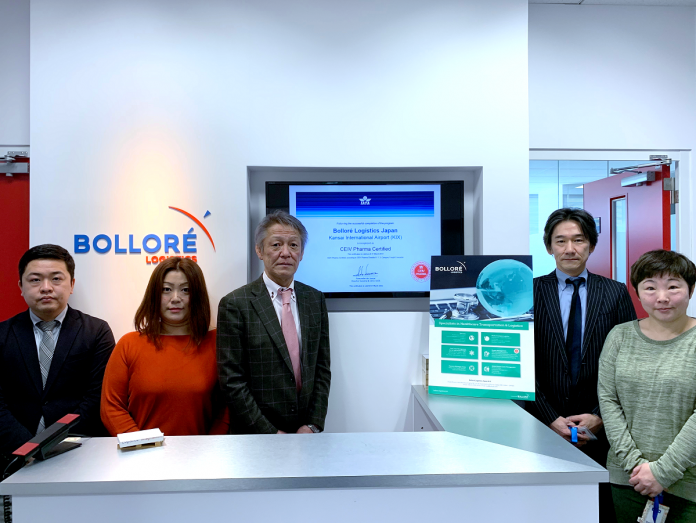 Bolloré Logistics Japan has successfully been certified by the International Air Transport Association (IATA) as Center of Excellence for Independent Validators in Pharmaceutical Logistics (CEIV Pharma) at its platform located in the Kansai International Airport (KIX), in Osaka. The certification is a globally recognized and standardized certification for healthcare airfreight shipments.
Bolloré Logistics Japan began the certification process according to the IATA CEIV Pharma standards in the second quarter of 2017. The CEIV Pharma certification will allow Bolloré Logistics Japan to have a strategic advantage in the healthcare logistics market with a stronger, more competitive and enhanced air cargo service.
"Earning the CEIV Pharma certification demonstrates our ability to successfully build and deploy a team of experts who are fully capable to offer end-to-end logistics solution for the pharmaceutical related temperature sensitive products through the Kansai International Airport (KIX). In the near future, we are also keen to acquire the same certification in Haneda Airport (Tokyo) in order for us to expand the expertise nationwide," said Goro Umezawa, Sales Manager at Bolloré Logistics Japan.
In a statment, Bolloré Logistics said this new success shows our commitment to achieve the highest international quality standard in the global pharmaceutical supply chain for its customers, by continually improving our processes and infrastructures to be compliant with IATA CEIV Pharma standards. With Australia, Singapore, South Korea, China and now Japan certified, the aim of Bolloré Logistics is to deploy this action throughout its global network with on-going certifications on other sites in the Asia-Pacific region such as China Hong Kong.
In Europe, Bolloré Logistics has already received the IATA CEIV Pharma certification for its Paris Roissy CDG platform (France) as well as its sites in Brussels (Belgium), Frankfurt (Germany) and Lisbon (Portugal).