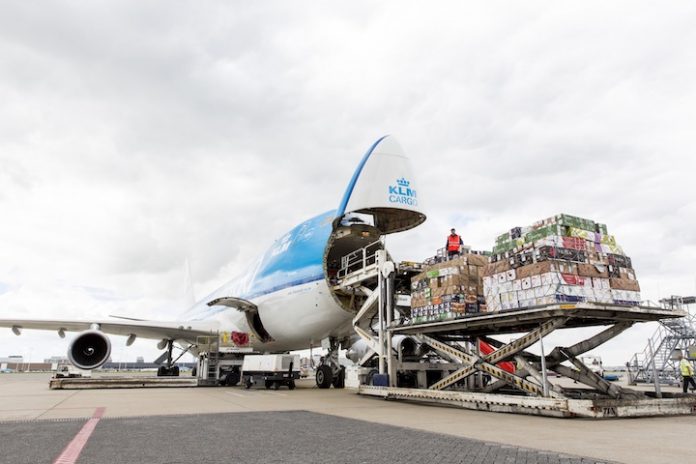 Air France KLM Martinair Cargo (AFKLMP Cargo) recently announced they had received official FlowerWatch accreditation at the International Flower Trade Expo (IFTEX) that was held in Nairobi, Kenya. The accreditation covers all flowers that are shipped by the airline from Nairobi to Schiphol Airport.
AFKLMP Cargo is the first air cargo carrier to receive this proof of quality and standardization. The post-harvest life of fresh flowers has dramatically increased over the years as a result of improved Cold-chain management.
FlowerWatch has devised a fail-safe Quality Assurance system. Along with identifying challenges in the cold chain, FlowerWatch also helps to fix them permanently. This system is built around 'time temperature exposure' which is expressed in degree hours.
Air France KLM Martinair Cargo's Global Head of Perishables Logistics, Mr. Eric Mauroux explains further, "Like the pharmaceuticals sector, where steps have been taken to comply with manufacturers requirements, we recognize the necessity for the floriculture sector of moving towards a more efficient cool chain based on the key drivers of effective collaboration, innovation and data-sharing in order to comply with growers', importers' and retailers' requirements."
"We are strongly committed to maintaining our position as a front-runner in the temperature-sensitive market. By continuously improving and investing in our cool chain, we are leading the industry by example, encouraging all actors to comply with food safety requirements, to increase shelf life and improve the consumer experience. To support this ambition, we have launched a Cool Chain Program with the objective of innovating our cool chain by focusing on infrastructure, processes, digital and IT, with dedication and supervision, as well as apron transportation.
"FlowerWatch is an innovative way for us to access our flower flow based on time-temperature exposure throughout the chain. This is another step towards standardization, which improves the vase life of the flowers we carry out of Kenya*. This accreditation is also a great achievement for all the stakeholders who embarked on this improvement program with us."